Our 4 Locations
#1 Grateful Pets Grooming & Boarding
(serving Charlotte & Gaston County)

10317 Rozzelles Ferry Rd.
Charlotte NC 28214
704-399-0696
Hours 8:00 a.m. to 5 p.m. Monday-Saturday


We do close early if all pets have been picked up

#2 Grateful Pets Grooming & Boarding

3735 Monroe Rd.
Charlotte NC 28205
Near Elizabeth, Eastover & Myers Park
704-333-6009
Hours 8:00 a.m. to 5 p.m. Monday-Saturday


We do close early if all pets have been picked up

#3 Grateful Pets Grooming & Boarding
(serving Huntersville & Lake Norman)

9116 Beatties Ford Rd.
Charlotte NC 28078
704-778-1218
Hours 8:00 a.m. to 5 p.m. Monday-Saturday


We do close early if all pets have been picked up

#4 Grateful Pets Grooming & Boarding
A Dog's Best Friend
(serving Charlotte & Matthews)

9010 Monroe Rd.
Charlotte NC 28270
704-847-9842
Hours - Monday-Appointments Only, Tuesday-Saturday 8:00 a.m. to 5 p.m, Sunday Closed


We do close early if all pets have been picked up


Looking for a new career? Do you enjoy animals? Your future can start with Dog & Pet Grooming Classes provided by Grateful Pets. Call 704-333-6009 for registration information for our pet grooming classes offered winter, spring, summer and fall.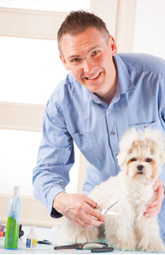 If you love animals and are wanting a career that's fun, rewarding and be your own boss-then we can be your answer.

Our pet grooming school provides hands on training, certification, and $500 of pet grooming equipment upon completion.

Our classroom is located at our Monroe Rd. location and we strive to keep the class size to six students so that your learning is more productive and hands on. Learn it fast in a supportive, nurturing and friendly pet environment.

We have placed 100% of our previous students into well paying pet grooming jobs and can do the same for you. We also offer financing.

The most complete dog and pet grooming classes for dog and pet groomers in the Mecklenburg, Anson, Burke, Cabarrus, Caldwell, Catawba, Cleveland, Gaston, Iredell, Lincoln, Rowan and Union county area and in the South Carolina area of Cherokee, Chester, Lancaster, Union and York counties.

For those who want a rewarding career in pet and dog grooming or the skill to groom your own dog or cat, learn it all at Grateful Pets Grooming.
• We can help you fulfill your dream of becoming a dog and pet stylist and earn a living working with animals
• We provide a Pet Grooming Training Program that offers hands-on training with a professional groomer
• We can help you after enrollment with job placement
• Would you like to enter into a pet care career without spending $5,000 to $12,000?
• We can show you the exciting dog grooming career with an opportunity to utilize your creative side
• Are you looking for professional pet grooming classes that are owned and operated by an animal lover?
Besides teaching you how to run your own pet grooming business, you will have tremendous fun in the process. Job placement success rate is high. Our classes generally last for 12 weeks. Call us for more details at 704-333-6009.

Charlotte, Cornelius, Huntersville, Indian Trail, Marshville, Matthews, Monroe, Pineville, Waxhaw, Weddington...are all within reach of Grateful Pets Professional Dog & Pet Grooming